Don't forget the Navy! Navy installations were active at Fort Miles/Cape Henlopen from 1898 to 1996.
On August 21, 2010, the Delaware Division of Parks and Recreation unveiled a plaque in front of the Biden Environmental Conference Center commemorating the nearly century-long presence of the United States Navy at the Cape.
| | |
| --- | --- |
| | |
| Biden Environmental Conference Center | Wayside Commemorative Sign |
A transcription of the sign includes:
The United States Navy's ties to Cape Henlopen spanned nearly 100 years. The Navy first came to the Cape in 1898 to build a signal tower during the Spanish American War. In the 20th century, the Navy kept a communications station here, beginning with a wireless station in 1904. During World War I, a naval base helped protect the cities and industries along the Delaware River. And in World War II, the Navy watched over shipping in the area and maintained a post to guard the Delaware Bay. From 1962 until 1981, an underwater listening station, named NavFac, Lewes, tracked submarines in the Atlantic Ocean as part of the Navy's Sound Surveillance System (SOSUS). After that, the Navy ran a reserve training center here until it left Cape Henlopen in 1996.
Installations are depicted in this enlargement of a portion of the sign: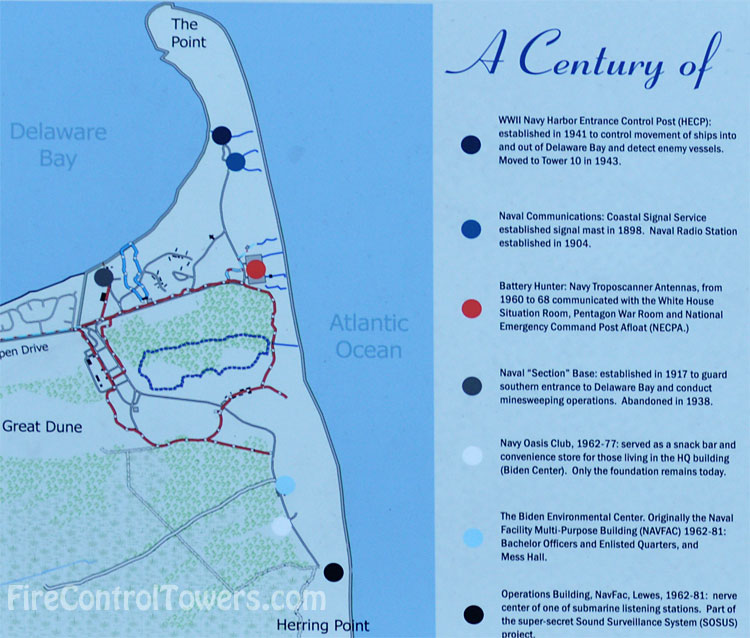 For more detailed information about Navy at Cape Henlopen, visit: www.NavyAtCapeHenlopen.info.
---